Talk about a staple side dish; these creamy mashed potatoes are everything you could ask of, and more!
This dish is almost good enough to serve as a main course. Simple and wholesome, you'll find an itch to make these with so many different main dishes.
We tend to eat more of these during the cooler months of the year, but I don't think there is a month that goes by where we don't have some variation on the classic creamy mashed potatoes.
Is Milk or Cream Better for Mashed Potatoes?
This is a great question, and I use both. It just depends on occasion or what I have in the kitchen. You will certainly get a creamier and richer mashed potato dish using heavy cream or buttermilk, but any type of milk will do. The benefit of using, say buttermilk, like in this recipe, is that you won't need to add extra salt later on.
Why You'll Love our Creamy Mashed Potatoes
Velvety Smooth Texture: With a creamy, dreamy texture, these mashed potatoes melt in your mouth with every bite.
Versatile Side Dish: Pair them with roasted meats, gravy, or served alongside a variety of dishes, these creamy mashed potatoes complement almost any meal.
Crowd-Pleasing Classic: I don't think I know anyone who hates mashed potatoes. Truly timeless favorite loved by all ages, these mashed potatoes are sure to satisfy even the pickiest eaters at your table.
Perfect Canvas for Creativity: Try them with garlic, herbs, onions or cheese for an extra dimension of taste.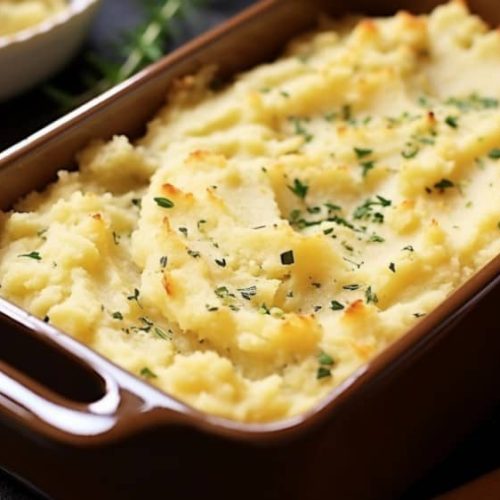 Creamy Mashed Potatoes
So creamy and delicious; this creamy mashed potato recipe is one to be used for any dinner event, big or small.
Ingredients  
6

large potatoes

1/2

cup

butter or margarine

1/2

cup

buttermilk

salt

,

to taste

pepper

,

to taste
Instructions 
Peel the potatoes, cube and place in a large pot.

Cover potatoes with water. Boil until tender.

Drain potatoes and return to pot or place in medium sized bowl for mashing.

Add butter, mash potatoes (I prefer a hand-masher) until mostly smooth.

Add salt, pepper and buttermilk. Mash until perfectly creamy. You can also opt to whip with a mixer for amazingly light and creamy consistency.

For an extra special meal, place in casserole dish and broil for 1-2 minutes for lightly toasted tips. Top with chopped rosemary.
Nutrition
Calories:
12
kcal
Carbohydrates:
1
g
Protein:
1
g
Fat:
1
g
Saturated Fat:
0.4
g
Polyunsaturated Fat:
0.04
g
Monounsaturated Fat:
0.2
g
Cholesterol:
2
mg
Sodium:
21
mg
Potassium:
27
mg
Sugar:
1
g
Vitamin A:
33
IU
Calcium:
23
mg
Iron:
0.01
mg