Crispy, golden-brown catfish fillets, perfectly seasoned and fried to crispy-perfection. A Southern staple, catfish is best fried in my opinion. Growing up my father always loved catching and cooking them, I wasn't so much a fan….until I tried them fried. They do have a stronger taste than some other whitefish, but as long as you season them well and cook them from fresh, they make a delicious and easy to prepare meal.
What you Need to Make Southern Fried Catfish:
For this recipe, I definitely recommend using fresh fillets if possible. Frozen catfish tends to be tougher and fishier-tasting. For the batter, its simple this time; paprika, cayenne, black pepper and salt. You could mix it up and use something a creole seasoning or maybe a lemon pepper.
Southern Fried Catfish Ingredients
Catfish fillets (fresh is best, frozen if you have to)
Eggs
Buttermilk
Flour (all-purpose or whole wheat)
Cornmeal
Vegetable oil
Smoked paprika
Cayenne pepper
Salt and Pepper
Homemade tartar sauce (or remoulade)
Why You'll Love Southern Fried Catfish
Crispy and Flavorful: The fillets are breaded that fries up beautifully crispy and bursting with flavor.
Classic Southern Comfort: A quintessential Southern comfort food.
Versatile: Enjoy Southern Fried Catfish as a main dish, sandwich, or even as a part of a seafood platter.
Quick and Easy: With simple ingredients and a easy process, this recipe is perfect for busy weeknights.
Homemade Goodness: Recreate the magic of Southern cooking in your own kitchen with this homemade favorite.
What is Southern Fried Catfish?
Southern Fried Catfish is a beloved Southern dish that showcases the heartiness of catfish. The fillets are marinated in buttermilk, dredged in a seasoned flour batter and then deep-fried until crispy and golden. It's a dish that combines tender fish with a satisfying crunch. Serve it with your favorite sides for a complete Southern meal. Don't forget the tartar sauce!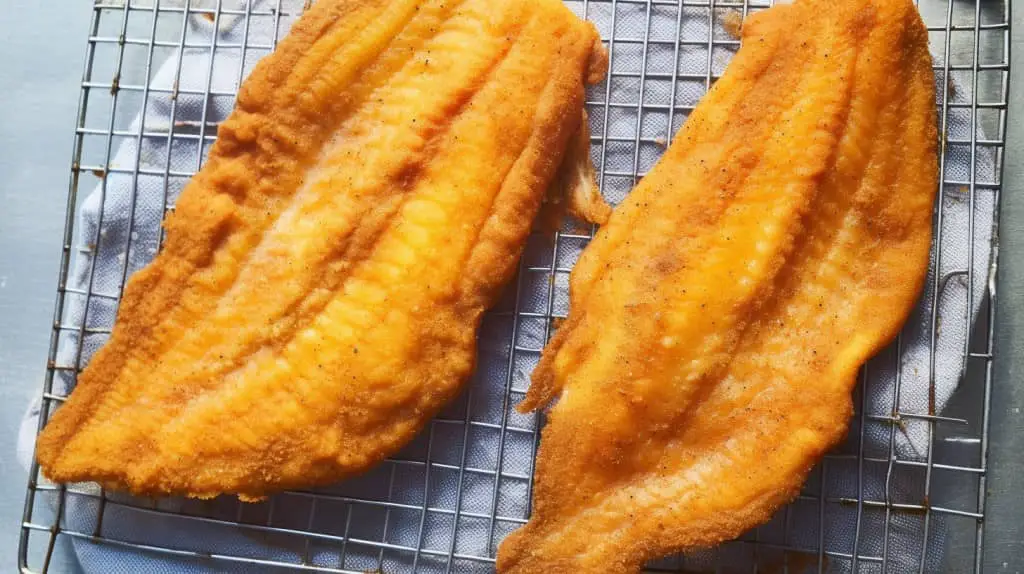 How to Make Southern Fried Catfish
Prepare the Marinade: Combine eggs, hot sauce and buttermilk in a large mixing bowl, whisking until smooth.
Marinate the Catfish: Place the catfish fillets in the buttermilk marinade for at least 10 minutes to enhance tenderness and flavor.
Prepare the Coating: While the fillets are marinating, combine flour, cornmeal, and spices to create the coating for the catfish.
Coat the Catfish: Dredge each marinated fillet in the seasoned flour mixture. Gently shake off excess and set them aside on a plate while you prep your oil.
Fry Catfish on the Stove
I use a Dutch oven for frying on the stovetop, but you can also use a large stock pot, deep skillet or fry pan. I find the Dutch oven is best, it keeps in most of the splatter from the oil and is a lot safer than a lower-rimmed pan.
Add your Oil: Add enough vegetable oil so that it is 3 inches deep.
Heat the Oil: Bring the oil up to temperature over medium-high heat. If you have a high-heat kitchen thermometer, you can check to make sure the oil is 325-375 degrees. If you don't have a probe that can read that high, the oil is ready once drops of water splash and sizzle instantly.
Fry the Fillets: Carefully fry the fillets in the oil. Give each fillet space; do a few batches if you must. In a large Dutch oven, I cook four fillets at a time.
Turn the Fillets: After 3 minutes, flip over each catfish fillet. They should be a perfect golden brown, if not, give them another minute before turning over. Watch them, don't burn them!
Drain on Rack: Use a wire rack with a tray or plate under it. Let the fillets rest for a minute before serving. Enjoy!
Fry Catfish in a Deep Fryer
If you are using deep fryer, set your temperature to 350 degrees and place your breaded fillets in the basket. Once your deep fryer is up to temperature, drop your basket into the oil. Each fillet should take minimum of 5 minutes (depending on thickness of the fillet). You can use a kitchen probe to check if you would like, they should be at least 150 degrees when fully cooked.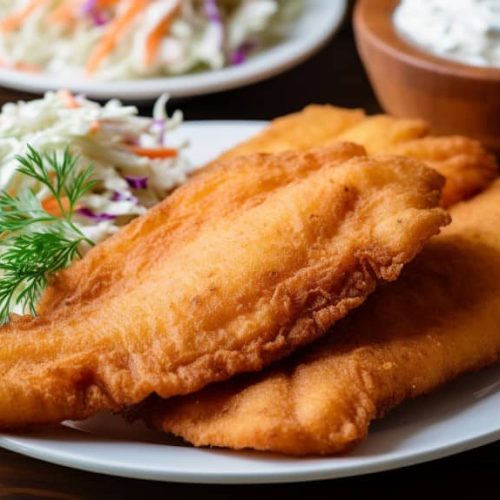 Southern Fried Catfish
My favorite way to cook catfish. Crispy and delicious. Don't skimp on the tartar sauce!
Ingredients  
4

catfish fillets

,

deboned

1

egg

1/4

cup

buttermilk

2

tsp

Tabasco Sauce

1/2

cup

cornmeal

1/2

cup

flour

,

all-purpose or whole wheat

1/2

tsp

paprika

1/4

tsp

cayenne pepper

,

optional

1

lemon

,

cut into wedges

tartar sauce

frying oil

,

peanut or vegetable
Instructions 
Combine egg, Tabasco sauce and buttermilk in a large mixing bowl, whisking until smooth.

Place the catfish fillets in the buttermilk marinade. Leave for at least 10 minutes, while preparing the breading and oil.

While the fillets are marinating in the buttermilk mixture, combine flour, cornmeal, smoked paprika and cayenne pepper. Skip the cayenne if you want a milder coating.

Dredge each marinated catfish fillet in the flour mixture. Make sure to completely coat each one. Shake off excess breading and set them aside on a plate.

Prepare your deep fryer or stove top pot with oil as described above. When oil is up to temp, carefully drop fillets into oil using a basket or tongs.

Fry fillets until golden brown, at least 5 minutes. Check with kitchen probe to ensure cooked to 150 degrees. Remove from oil, place on wire rack to stand for at least a minute before serving.

Best served with homemade tartar sauce, remoulade and creamy coleslaw. Enjoy!
Nutrition
Serving:
1
fillet
Calories:
311
kcal
Carbohydrates:
8
g
Protein:
36
g
Fat:
14
g
Saturated Fat:
3
g
Polyunsaturated Fat:
3
g
Monounsaturated Fat:
6
g
Trans Fat:
0.1
g
Cholesterol:
135
mg
Sodium:
244
mg
Potassium:
725
mg
Fiber:
1
g
Sugar:
1
g
Vitamin A:
99
IU
Vitamin C:
4
mg
Calcium:
29
mg
Iron:
1
mg